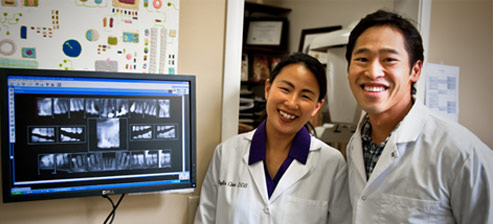 Welcome to Mission Terrace Dental:
Neighborhood dental care that makes you want to smile!
For Dental Emergencies, Click Here
At Mission Terrace Dental, we make your smile healthier — and give you reasons to smile more! Conveniently located in the Excelsior, Outer Mission, Glen Park neighborhoods near public transportation, our San Francisco dental office serves our diverse community of patients with expert care that is always warm, friendly and efficient yet relaxed.
We focus on education and preventative care for all our patients and reduce the stress of making decisions about your teeth and gums by laying out all the options for you. Mission Terrace Dental will also work with you on financial matters to help you afford our quality dental care. We welcome adults, children and seniors at our San Francisco dental office.
As a respected dental office in San Francisco, we adhere to the current standard of care, comply with OSHA regulations and protect the privacy of patients by meeting all HIPAA guidelines.
See our Office News, where you can learn about fun activities and events going on at Mission Terrace Dental and keep up on the latest developments in dentistry.
Request an appointment with one of our San Francisco dentists today!